Two Australians Andrew Chan and Myaran Sukumaran, convicted of drug trafficking, are awaiting execution in Indonesia. In an effort to convince the Indonesian government to stay the execution, Australian Prime Minister Tony Abbott said "Let's not forget that a few years ago when Indonesia was struck by the Indian ocean tsunami, Australia sent a billion dollars worth of assistance". Strong words or just plain horrible? What's your say?
The two, Andrew Chan and Myuran Sukumaran, were the ringleaders of a group that has earned the monicker "Bali Nine". The members of the group had been convicted of planning to smuggle more than 8kg of heroin from Indonesia to Australia in 2005. Drug trafficking in Indonesia is punishable by the death penalty, and as the leaders of the group, the two were sentenced to death. The other six were sentenced to life in prison, while one was sentenced twenty years.
Australia has long been negotiating for a stay in execution for the two convicted drug dealers. Australia doesn't have the death penalty. Last week, Australian Prime Minister Tony Abbott, said these about the issue:
"We will be making our displeasure known, we will be letting Indonesia know in absolutely unambiguous terms that we will feel grievously let down…Let's not forget that a few years ago when Indonesia was struck by the Indian ocean tsunami, Australia sent a billion dollars worth of assistance"
Did he really just say that? (read more about what he said here)
When tragedies happen, whether it be an earthquake, a tsunami, a typhoon, or a plane crash, it is always inspiring how nations come to each other's aid. "Hope for humanity" is something that you'll often hear when countries help each other during tragedies.
When you hear Tony Abbott's words, does that somehow negate the "acts of humanity" aspect of aid during calamities when there are strings attached?
In the Yolanda (typhoon Haiyan) aftermath, Australia donated more than A$ 77 million (PHP 3 billion) in direct assistance and other forms of aid to the Philippines. Will Tony Abbott eventually ask for something in return from the Filipinos?
The Prime Minister could have probably just said what Foreign Minister. Julie Bishop said:
"We're asking Indonesia to show the same mercy as they seek to be shown to their nationals who are on death row in other countries"
Indonesia has appealed death penalties for its citizens sentenced in various countries. The Philippines (which like Australia has no death penalty in its laws), has likewise appealed for clemency for many of its citizens on death row.
There is a term for someone who gives a gift but gets it back or expects something in return, but that term is racist and inappropriate. Should it be changed to "Abbott-giver" instead? However, that term may not also be accurate. It was not Abbott who gave the money during the Tsunami, he's just the one asking for the favor back.
The Indonesian citizens are planning to give it back though. #CoinsForAbbott and #KoinUntukAbbott have become popular hashtags in the country. It seems #AbbottGiver hasn't caught on yet.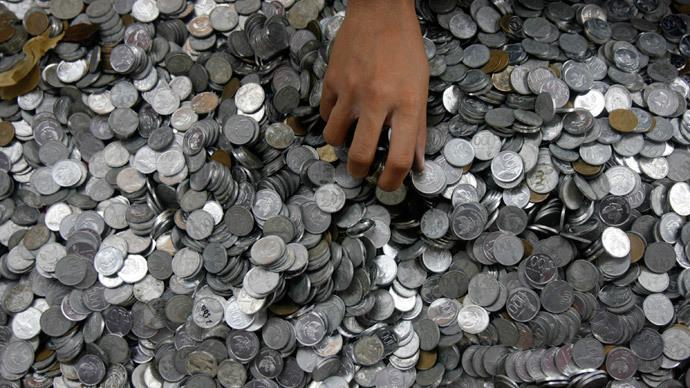 Hold on Indonesians! You might not have to pay the full amount. The Australian government may have earned some or all of the amount back in the following ways:
The tsunami tragedy resulted in a lot of Australia-bound refugees, and would have created more if Australia didn't give aid. Granting asylum to these extra refugees; or hosting, processing, or detaining them in some island somewhere will cost Australia a lot of money for years to come.
Giving aid made Australia look good to Indonesians. The good will in Indonesia during the tsunami surely brought a lot of that aid money back in trade.
The aid helped Australia in its geopolitical and geoeconomic rivalry with China. Influence building cost money and giving aid is a less obvious (but common) way of buying influence.
The aid helped Indonesia recover economically. Australia wouldn't earn much if its biggest trade partner in the region was significantly weakened economically.
Groups with alleged links to terrorism helped in the relief efforts in Indonesia. If Australia didn't help, those groups could have easily grown in influence and power in the region. That would've cost Australia a lot of money directly (increased security spending) and indirectly.
If we're going to go by what happened with Yolanda donations, a large portion of the aid was probably spent as administrative costs (e,g. salaries, hotel accommodations, allowances) of the foreign aid workers and consultants themselves.
This is an excerpt from an Asia Times Online article in 2005 about the Tsunami aid. (Open Purses with Strings Attached by Alan Boyd)
Relief organizations have calculated that as much as 75% of foreign aid is directly tied to trade access or other economic and political strategies. Some comes with so many strings attached, including preferential tendering on contracts and the hiring of consultants, that only 30-40% of dollar value is ever realized.
Based on the strings attached, Tony Abbott should probably revise down that A$ 1 Billion part from his future speeches.
– Finance MD
thefinancemd.com