Valentine's Day is coming. For many businesses, this is the time to make a lot of money from lovestruck consumers. Fortunately, there are still good deals out there. Finance MD has chosen the best ones for Valentine's.
I looked for the best Valentine's deals out there. From champagne, to concerts, to peanut butter, and even the 'red room of pain' – I have it all. Here are the best sales, promos, freebies, contests, etc. in my opinion:
Best Valentine's Sale: Boundless Love by Uratex Foam
Couples (and more in number I suppose) do most of their "sexy time" in beds. What better purchase to make this Valentine's Day than a new mattress. In the Philippines, Uratex is probably the best value-for-money mattress.
The quality is excellent and the price is reasonable. I bought an 8 inch king size memory mattress (pure foam – no springs, woods, or straw fillers) from Uratex six years ago. It only cost me around PHP 14,000 (around USD$ 315 at current exchange rates). To this day, it still feels and looks brand new.
For more details about this sale, go here. I just wish their discounts are much higher. At least these are not fake discounts (when retailers jack up their prices during sales and 'discount' them back to their original prices).
Best Valentine's Freebie: Soulful Serenade show by Darren Espanto
The Philippines churn out reality show singers like it was going out of style (note: reality show singers have, in fact, gone out of style). Last year, The Voice Kids Philippines introduced us to a very talented and charismatic Canadian-Filipino singer named Darren Espanto. This boy will go very far, so catch him now while he still sings in 'free' concerts.
The information is right up there on the poster but if you want to learn more about his upcoming shows and appearances, go here.
Best Valentine's Discounted Gift Idea: Peanut Butter Machine from Lazada.com.ph
Who doesn't love peanut butter? This gift will ensure that you'll have loads of freshly made natural peanut butter, and almond butter, and hazelnut butter, and cookie butter… you get the drift.
If you want to order this, go here. It's just weird though that the 'Before' price in the link is now PHP 2,300, and not PHP 3,000 as in the screengrab above which I took just 2 days ago. What's going on here Lazada? It's still a great bargain PHP 843.74 – yes the link says that it's now cheaper by 5 cents.
Best Valentine's 'Free with Purchase' Deal: Rustan's Silver Vault – Moet & Chandon Promo
Did the names Rustan's and Moet & Chandon scare you? I understand, these names are synonymous with pricey. However, if you're buying something very special (and expensive) for your loved one, Rustan's is the place to go. The Rustan's company, via the SSI group (Stores Specialist Inc. – SSI:PM see latest stock quote) distributes most high and mid-end international brands in the Philippines. See all the SSI brands here.
Truth be told, most of the best deals I bought locally actually came from Rustan's. When they discount, they really discount. I haven't bought anything from Rustan's Silver Vault though, because that's where fine jewelry from brands like Cartier, Tiffany & Co., Mikimoto, Piaget are sold. PHP 50,000 will probably barely enable you to buy a small Tiffany bauble for your loved one. See other brands available at Silver Vault here.
After you give your loved one the gift from Silver Vault, you can both celebrate with the free bottle of Moet & Chandon Rose Imperial champagne. The champagne costs around PHP 3,500 -3,900 in the Philippines, just a small percentage of 50,000. However, no part in this promo will even remotely make you look cheap to your beloved. Think about that. Learn more about Rustan's promos here.
Best Valentine's Food Promo: Starbucks Complimentary Cake 
Hotels and restaurants have so-called 'promos' on Valentine's. However, these places enjoy very high demand on Valentine's (just like flowers), so don't expect them to discount things for you. Their Valentine's service will probably be more expensive (just like flowers, again!) than their regular service, and understandably so.
A nice way to end a date is coffee at Starbucks. What's even nicer? Free cake.
The mechanics for the promo are right up there in the picture. Notice that the promo runs only from February 9 to 13, so it doesn't happen on the actual Valentine's day. But who dates on the 14th, right? If you plan to go out on February 14, Starbucks has a Buy One Get One promo here.
The Rustan's group is also the franchise holder of Starbucks in the Philippines by the way.
Best Valentine's Contest: City of Dreams Manila Nicole Scherzinger Promo
Pop Quiz: Can you name a member of Pussycat Dolls aside from Nicole Scherzinger? You can't without googling, right? Don't worry, it's Nicole who's going to Manila on Valentine's, not one of those other nameless women.
The mechanics of the promo are in the picture. Notice that the deadline is on February 12 at noon time. That is today. I had to publish this post before the deadline or this part would be senseless. Learn about the other promos of City of Dreams Manila here.
Best Valentine's Gimmick: Victoria Court's 'Fifty Shades of Grey' Theme Room
Fifty Shades of Grey is now showing in the Philippines. See my article about the film's screening here. To coincide with the publicity surrounding the movie, Victoria Court came out with a 'Fifty Shades of Grey' suite. There is no discount here, but it's a nice gimmick for Valentine's.
Unlike the real-life Escala, which I wrote about here, the Fifty Shades of Grey theme suite in Victoria Court actually has a red room. Here is a more detailed picture.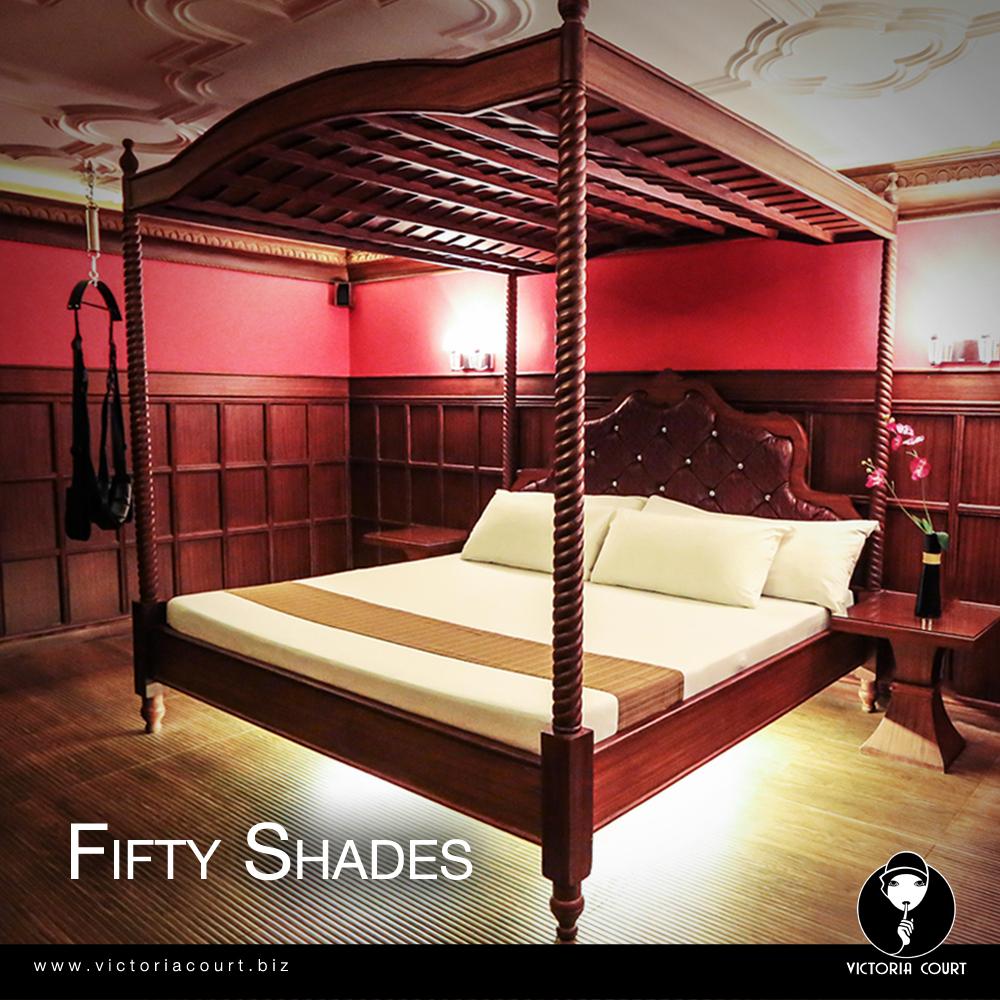 If you want to book the Fifty Shades of Grey suite or other Victoria Court suites for that matter, go here.
Even if you're single, you can still partake of the above promos with your friends (even the Fifty Shades of Grey suite – you can do karaoke in it or something). Don't let the lack of a Valentine's love get in the way of a good deal.
– Finance MD
thefinancemd.com
*To comment, just type away. NO need to type your name and email.